DEPARTMENT OF STATISTICS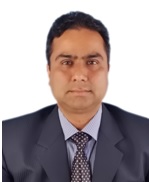 Dr. Rayees Ahmad Dar
Year of establishment - 1993
The Department of Statistics was established in the college in the year 1993 with a vision to make the students in particular and people in general aware about this emerging and interesting subject. College offers a regular three years Bachelor's degree with Statistics as one of the subject. The subject can be opted for both in Science as well as in Arts streams with subject combinations approved by the University of Kashmir. The main aim of the Department is to give the learners a sound understanding of the subject.The student should develop an understanding of Statistics as a subject andthe applications of the subject in different fields of knowledge. A sound knowledge of basic Statistics and applications of methods and statistical tools would be a pre-requisite for the programme.The programme offers an opportunity to students for higherstudies in Statistics. Most of the students with one of this subject have progressed to higher studies for post-graduation and research studies in various universities of the country. Majority of the pass outs have their good placements in the job sector especially in the Department of Planning, Directorate of Economics and Statistics, Statistical Services of J&K Government, JK Higher Education Department, JK School Education Department, JK Finance Department,LIC of India and different banks of the country. The Department is equipped with the licenced Statistical Software (SPSS v. 25) which helps the students in their practical component of the syllabus and also helps them to learn to analyse the Statistical data. The Department is also equipped with a licenced software namely scientific workplace which helps the faculty to draft their research papers as per the international standard. Every year books are purchased for which the requisition is submitted in accordance with the syllabus prescribed by the University. There are more than 800 text as well as the reference books of Statistics are available in the college main library.
Facilities in the Department:
Infrastructure:-
Statistics Department has infrastructure in the shape of a Departmental office and a computer laboratory which acts as a lab. for the practical component of the syllabus.
Equipment:- To facilitate the teaching in practices, the department is having: - a sufficient number of scientific calculators for carrying out the practicals. -Statistical package for social Sciences (SPSS v.25) - Scientific workplace
FACULTY PROFILE
S.NO
Name
Designation
Qualification
Email
Mobile
1
Dr. Rayees Ahmad Dar (Head of the Department)
View complete profile
Assistant Professor
M.Sc- Statistics, Ph. D
rayees_stats@yahoo.com, rayeesstatistics123@gmail.com
7006301844, 9622497820